So, I didn't get into the top ten of purse week over at a Lemon Squeezy Home.

<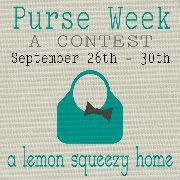 In fact, when the top ten were announced I had to go back to the flickr group to look at them again as most I couldn't even remember having seen in the first place...oops!

Pop on over to a lemon squeezy home to cast your vote by clicking the button above. You've only got til tonight to vote.

Personally I voted for the Marilyn Tote because when I read about it I discovered it was 80% HAND SEWN!!! Eek! That's a lot of work, and a beautiful bag.

Here's my entry:

A nice little clutch bag with suiting outer, quilting cotton inner, cream ric rac edging and a magnetic snap. Simple, just like me :)
I didn't get into the top ten though and I think I know why.
4 of the top ten were yellow or orange, 2 browny, 2 grey, 1 purple and 1 blue & orange.
I obviously chose the wrong colour :)
Next year I'll try a warmer colour and see if it improves my chances...oh, and I won't leave making it til the day the competition ends!!
Bonne Chance top tenners!