Day 13 - The Medicine Cabinet
18:09
Toni's challenge to us today was the medicine cabinet, but I was prepared for something a little meatier what with us having tomorrow off.

Plus our medicines are in the bathroom, and the bathroom was a mess.....so today I chose to do....THE ENTIRE BATHROOM!

Oh yes, including the mouldy walls!

Enjoy these fully gross and disgusting before photos:


Grosser than gross.
I took me down to Wilkinsons and bought some lovely plastic drawers and tubs (We can't stretch to real proper bathroom drawers lol)
Took everything out of the bathroom and then wondered whether I REALLY wanted to do this today!
The spade is waiting to go back out into the bike tent from the snow, it wasn't in the bathroom!
Now you can admire the photos of my lovely empty bathroom with free condensation mould behind the toilet and leaky roof mould on the ceiling. They do say variety is the spice of life....
A good few sprays of mould and mildew remover (with all the windows open and the door closed) and a bit of scrubbing. Also the usual bathroom cleaning activities and we were back in business!
The mould on the ceiling is still there, but it's fainter. Just goes to prove that when we told the maintenance man that it wasn't condensation but a leak, we were RIGHT!
Gosh, I've gotten snappy..maybe it's the excess of bleachy smells.
Anyway...after:
Let's go for broke with some before and afters.....
Unfortunately Mr Potato Head didn't fit in the new drawers so he shall have to dispense his bubble bath from the end of the bath. Yes, my husband is 32 and he owns this.....admittedly I did buy it for his Christmas present, but we can gloss over that!
There we are.....now I just have to tidy up the dining room where I made such a mess emptying the bathroom!! Eeek!
If you want to check out the proper challenge (again....I really should stick to the programme one day) then pop on over to a bowl full of lemons.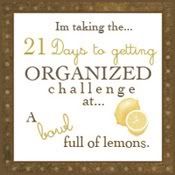 If you want to admire Benny's challenge inspired bedroom organisation then pop on over to
Benny's blog
....nicely done lovely boy!
See you Monday!