So my final entry for skirt week is this full corduroy skirt in rust. When I woke up this morning I didn't even have this fabric in my possession. At lunchtime it was finished in the washing machine and hanging out on the line to dry. At 3pm I thought, ah go on then, I might as well start and see how far I got. Guess what...I finished it!

Not quite as good as the previous wall
I used 1m of rust cord fabric (bought new for £5.99) and used a Burda Style magazine pattern from issue 07/2006 style 131.
The front has two v's on the yoke and the back has one deep v and two darts. I had a few issues sewing the V's in and would appreciate if anyone has any V sewing tips!
I inserted an in seam pocket on the right seam. The left seam called for an invisible zipper but I had a lovely dark brown metal zipper the perfect size so I used that instead and I'm really pleased with the look of it.
I didn't have any coordinating bias tape so unfortunately I had to do the hem properly, turn and press, turn again and press then stitch. *sigh* I hate hemming properly.
This skirt has got quite a wide hem radius (I totally made that phrase up) which will make it comfy and easy to wear. One day my legs might start looking a bit less pale too.
Next to tweed, corduroy is my favourite clothing fabric.
This rust coloured corduroy skirt is my final entry into the Skirt Week competition and I was going to put it into the Full category but looking at it, it's more A line than full so I'll put it in the A Line group. Hopefully I won't be penalised for putting it in the wrong category!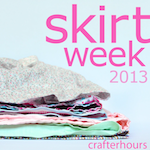 p.s. Sorry for bombarding you with posts this week, normal service will resume next week!